There are two kinds of tourists in Laos. The first is those tourists with more money and little time; these fly into the only well-known tourist destinations, see the sights and then fly back out. The other kind is those with a lot more time who travel from place to place by bus and see the many smaller places that are not so much sights as experiences. That's me. I had planned on 5 weeks in Southeast Asia, most of that in northern Laos.
Travel by road in Laos is very slow; there are only about 2000 miles of paved road in the entire country and much of that is poorly maintained. Additionally, the public buses are generally worn out specimens imported from Thailand, Korea or Japan, prone to break-down at best and to total failure at worst. Every long distance bus carries a mechanic and I was never on a long bus ride that didn't have some sort of mechanical problem of some kind. On the last leg of my final bus ride into Vientiane from the North, the mechanic sat above an open hatch in the floor in the back of the bus and had to finalize every up-shift of the driver with a resounding whack with a large sledge on the transfer case below.
I had landed in Bangkok one and a half weeks before, made my way across to Siem Reap in Cambodia to see Angkor Wat and then up through Laos to Vientiane and then to Luang Prabang, Laos' one true tourist sight. Luang Prabang is a beautiful small city situated on a peninsula where the Nam Khan meets the Mekong. (Nam is Lao for River).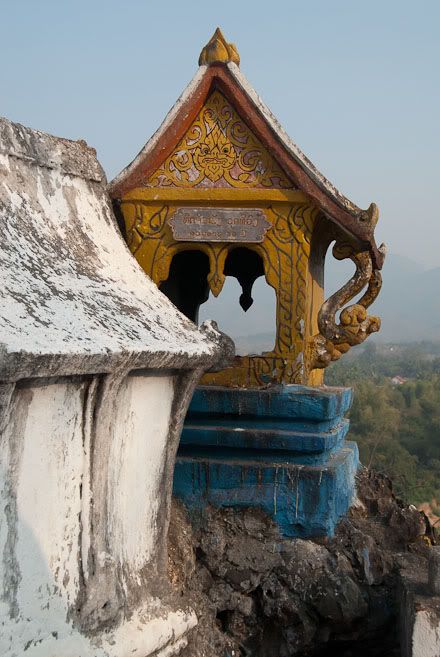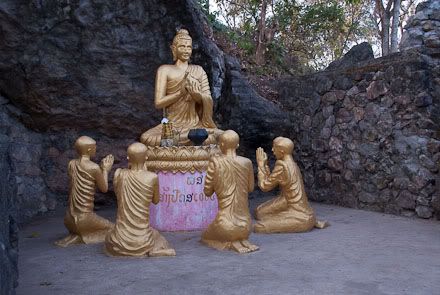 Travel and schedule-keeping is rather catch-as-catch-can in South East Asia and, aside from having a general idea of what and where one wants to go, the exact itinerary is often set by chance rather than forethought.
On my fourth day in Luang Prabang, having been told the night before that my room in the guest-house had been reserved, I was strolling along the main street with my knapsack and saw some other Westerners I had met on the bus trip sitting at a cafe having coffee. So I sat with them and after a while someone said they were planning on taking the 11 AM bus East to Phonsavan to see the Plain of Jars. I replied that I had rather head north to the highlands and the town of Luang Nam Tha, quite close to the center of the Golden Triangle. Well, that sounded interesting to a couple of the others and off we three went for the bus North.
I had previously ridden on designated long-distance buses but from Luang Prabang north, everything was local. There is no such phrase in Lao for 'this bus is full' and so, every time we either came to a town or saw someone waiting for a bus, the driver stopped. The Lao are small people and seats that ordinarily hold two Westerns fit 3 or more Lao. When the seats were full, plastic chairs and buckets went in the aisle. All baggage, except for the occasional loose chicken, went on top. It is inevitable, when sitting so close to people for a long time, when people were literally in your lap, to become more at ease with them regardless of cultural and language barriers. I carry pictures of my children to show to people and, by the time 3 or 4 hours went by, we were part of the gang, sharing food and drink and communicating, often in pictures or scant phrases from guide books.
For some reason, perhaps unaccustomed to bus rides, Lao women seem to get motion sick very easily and it was not uncommon to hear a soft choking noise and look over to see a woman vomiting quietly into a plastic bag brought along especially for the purpose.
Wherever there was a large intersection, about every 2 hours, we stopped for a drink, eat and pee break in the little towns that grew up wherever people have a reason to pass. These towns are very poor, there is nothing within a hundred miles and the outlook for anyone growing up there is bleak. The bus stops draw lots of children who just hang around, looking at the buses, watching the people passing through.
Westerners are not rare, there are 2 or 3 on every bus but still we stand out by size and color from everyone else. Every Westerner draws a crowd of children who just watch us, evidently expecting something unusual that they can take back to tell their friends. This rural poverty is at a level infinitely deeper than anything we in the West see routinely and was quite upsetting but there was nothing to be done.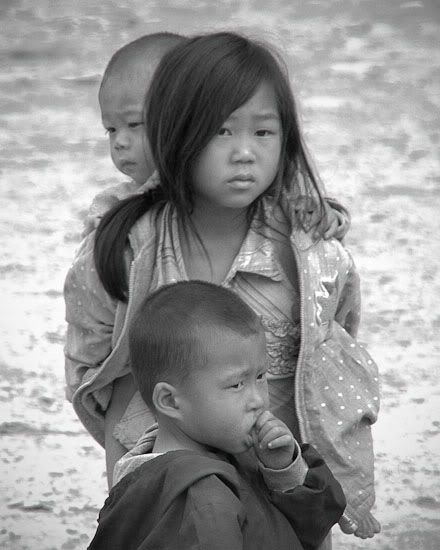 The road was narrow, twisty, hilly and badly paved. After about six hours into the trip, it was getting dark. The road had been climbing steadily for about two hours and it was starting also to get quite cold – especially in comparison to the baking heat of the lowlands. In the dark, the ups and downs of the road were very obvious and with no sights to distract us and the laboring noise of the engine drowning out any attempt to talk, there was nothing to do but sit in the dark and wait.
And, of course, in the valley between two small hills, the bus quit. Out we go into the absolute dark, to stand around on the asphalt. There is no dark quite as black as that night, there was no moon, no town, nothing to break the absolute dark. Even the light leaking out from under the bus where the mechanic worked seemed to be snuffed out almost instantly by the darkness around us.
No one spoke enough English to tell us what was going on, if they knew. The Lao were used to this and just squatted down in little groups and talked and smoked. We three Westerners stood and worried. Finally, someone, not me, brought up the subject none of us wanted to hear. There had been bandits holding up buses in this area and until only recently the Lao government had put a armed soldier on every bus. We could hear the driver and the mechanic banging away quite busily under the bus and we silently cheered on every bang.
After only a year or so, there was a shout, we all piled back on and the bus started again, slowly but steadily. We plowed on through the dark, up and down, up and down, each of us intently trying to parse every little sound from the engine, hoping for success but expecting failure.
Finally, an hour or so after our 'scheduled arrival' we pulled in the faintly lit dirt lot that was the bus station at Luang Nam Tha. Everyone piled out, the driver and mechanic climbed to the top of the bus, uncovered the baggage and started passing it down. By the time all three of us had out bags, everyone else had scattered into the dark. The driver hopped back in the bus and it pulled away and at that moment the station lights went out and we were in the total dark.
There we were 8 hours north of Luang Prabang, in the very northernmost part of Laos, standing in the dark, not knowing where to go and what to do.
Well, we lived and I'll tell you about the rest in the next part. Adventures on the Road in Laos - Part 2