Before I disclose whether I lived through being stranded in the middle of the night in an empty dirt lot in a small town in the very Northern tip of Laos, I did want to answer a comment that was made to the first post.
Someone asked how a Westerner used to the fast pace of modern society could tolerate the slow, slow pace of this kind of travel.
Like many of you, for most of my life I have had responsibilities that took my time, my thoughts and my attention. On trips like this I am cut off from every single thing in my other life that grabbed at me. I am free from all that and as these responsibilities fall away they are replaced by an increased sense of appreciation for every little instant, difference and experience in this new place. Every moment, no matter how tired or hungry or scared I was, rings sharper and clearer in my memory than any week of my ordinary life.
---
---
Well, we had de-bused and were standing in the dark not having a clue. So we put down the bags we had just picked up, pulled out our flashlights and guidebooks and found a tiny map of the town. We knew we had come on a long straight stretch from the South and, locating the bus station on the map, we could orient ourselves approximately to the town map and so we wandered generally East down a dark street until we found a much wider street and we could see some dimly lit windows.
There is a problem in tightly controlled countries; not every hotel or guesthouse can take foreign visitors. Many places don't even want to bother because of the increased scrutiny the hotel comes under from the police. In this part of Laos, only 12 or 13 miles from China, many smaller hotels are reserved for Chinese workers in the local factories and there seems to be a rule that Westerners are not allowed in the same accomodations as Chinese. Make of that what you will.
One of our little band group was a female Chinese national from Hong Kong and, in going from doorway to doorway, we eventually came across a Lao hotel-keeper who spoke Chinese and was willing to let us stay the night. The rooms were dismal, bordering on cell-like, no windows, a single dim bulb in the ceiling and no mattress but a pad on the plank bed. I slept like I'd been drugged and woke up happy and rested 10 hours later. The room was $3 and the inn-keeper grinned when we paid in dollars; obvioulsy a windfall profit for him.
We were all ravenous and set out to look for breakfast. While my friends kept on in search of more traditional food, I opted for a rice and bun shop where I got all the barbecued beef buns and rice gruel I wanted for the equivalent of 40 cents US. There was only one big table and the locals made room for me. When I was clearly flummoxed by the rice gruel, one showed me how to season it with the ground chiles, etc that made it more palatable, if not great. Having been welcomed, I went back to this same shop for each of the 4 breakfasts in Luang Nam Tha and, by the third day, I was part of the crowd and a place was made for me as I came in sight.
We had found slightly better accomodations. Actually only the mattress was better. There was still only a communal bathroom, cold water shower and bad light but we spent most of our time walking or riding or sitting in a cafe drinking Beer Lao. The most difficult part was taking a shower. The bathrooms were ventilated to the outside by slits in the wall, were unheated and there was only a nod towards warming water. Since nights got down to 40 degrees F in those hills, a morning shower was definitely both a wake-up call and an anti-aphrodisiac.
You may also note the lack of toilet tissue and the replacement with a bucket of water and a ladle that will be at ambient temperature.
the kitchen
the laundry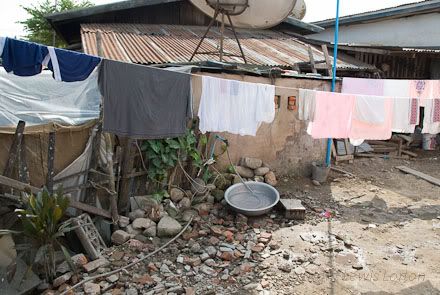 Luang Nam Tha was sort of a tourist town; it drew backpacker types on their way from the bigger cities down South who wanted to take 3 or 4 day treks into the surrounding hills to see the local tribal villages. These tribes, particularly the woman, still dressed in traditional clothes and, all through the morning, one could say them heading down through town towards the food market. The head scarves and the foot wrappings distinguish the tribes but I was educated to tell the groups apart. The only tribe I could absolutely identify were the Akha who are very obvious by their elaborate silver and metal jewelry. The third of my traveling companions was a 6'8" Welchman so you could easily imagine the amazement and delight of people when the three of us arrived anywhere. The adults generally just stared while the children laughed and pointed.
Akha woman headress
The Welshman and the Akha woman.
Akha woman looking at pictures of my grandchildren
Over the next two days we rode motorcycles throughout the area, getting hand-drawn maps and interesting, if not accurate, directions given in mostly Lao and a bit of English. We rode on dirt paddy dikes, on never-paved paths and just saw everything there was to see – including being made guests at a Lao wedding where we couldn't leave until we each had drank a significant amount of fiery rice whiskey.
This was the last the three of us would travel together. (This kind of ad hoc meeting and parting is very typical of backpack travelers in Asia.) I was going South and East, the Chinese women was heading back to Luang Prabang for a flight home and the Welshman was wanting a trek.
On my last day in Luang Nam Tha, we all spent an hour or so at the two offices in town that did treks. The first, run by the government, was staffed by rather quiet and startlingly surly guides who didn't seem to care if we took a trek or not. The other was a private company, rather surprising that it was in direct competition with a government office. The Luang Nam Tha office was one three branches of this company who had offices in Luang Prabang and Vientiane. The office was run by a young Chinese man, one of the partners and he was extremely friendly and helpful and the Welshman signed up for a trek with them.
The Chinese woman said she wanted to give away her clothes as she did at the end of every trip, discarding clothing to make room for gifts, etc, in her luggage. She had everything washed and folded the night before and we set out specifically to find a village where the clothing gifts were acceptable. We went west from the town and stopped for a drink at a roadside restaurant right on the edge of what seemed like an appropriate place; a restaurant in Laos is a porch with plastic chairs and tables. There were two little girls working at putting out grass on the road to dry for thatching the hut and our appearance just stunned one and galvanized the other who ran to get her mother. We were quite close to one of the Chinese factories (we could tell because there was a well and freshly paved road) and the mother spoke some Chinese.
When my companion tried to give her the clothing, explaining that it was a gift, she refused to take it but dragged my friend, with us trailing along, to what must have been the head of that village. He was the one who would receive the gift and disburse it.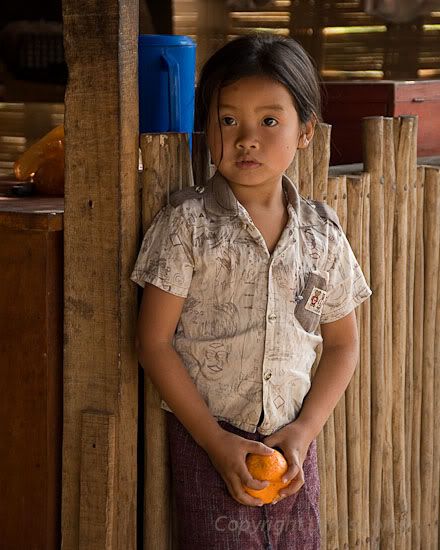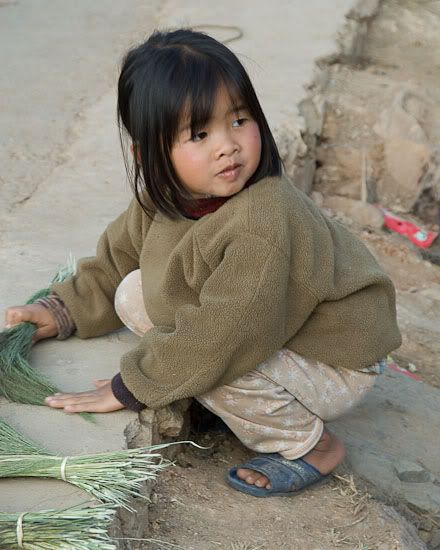 And there we stood, an older white man with a mustache, a very tall Welshman and a short Chinese woman, while this old man went through the pile of clothing, opening each piece, making a remark and then giving it to his designee. Inevitably he got to the bottom of the pile where the undies were discretely folded. Much laughing and blushing as he measured them and started to give one to a larger lady and then to a smaller young woman. When, finally, he held up the two brassieres and jiggled them in the air, the entire village laughed uproariously and the recipients blushed and ran home with their gifts.
We sat for a while and drank more rice wine and then headed back, getting back to our rooms in time for supper and bed. In the morning, we three walked back towards the bus station, the Chinese woman heading for Luang Prabang, I heading to Udomxai and points East and the tall Welshman for his trek. On the door of the trek office was the sign below.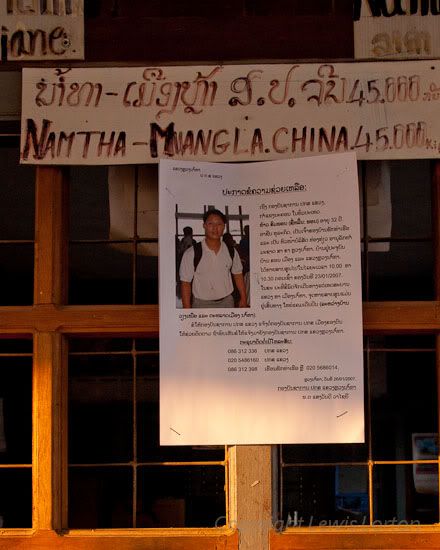 It turns out that the night before the young Chinese owner had received a call to come to the police station, 400 meters away. In the morning his car was found by the side of the road and he was missing. The two women who were the office staff were sitting in stunned silence. Two weeks later in Vientiane, I inquired about him at their office there; they said nothing more was known. (I was sent a link to a post on a travel site that talks extensively about this 'disappearance.)
In silence, we all went on. The Chinese woman to Luang Prabang and then home to Hong Kong, the Welshman south and west now to see a gibbon project and I took a small local bus to Udomxai and then on to more adventure in Laos.